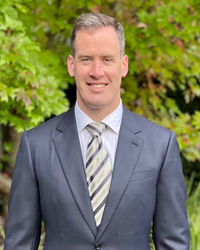 Dr Michael GROSS
F.R.A.C.S., F.A.Orth.A.
Orthopaedic Surgeon Canberra
Dr Michael Gross is a highly trained robotic arthroplasty surgeon, specialising in primary and revision hip and knee replacement surgery. He has been operating in Canberra for over 11 years, and is passionate about helping people improve and retain the quality of their lives.
After completing his orthopaedic training in 2010 at UNSW, he spent the next two years on fellowship training advancing his skills in primary and revision hip and knee replacement surgery. In 2012, Dr Gross took over from esteemed orthopaedic surgeon Dr Peter Morris, and has been running a successful and busy orthopaedic practice in Canberra since that time.
In 2016 and 2017 Dr Gross received specialised training, both in Australia and abroad, in robotic hip and knee replacement surgery. Dr Gross has had a keen interest in robotic surgery and performs a large volume of these surgeries each year at National Capital Private Hospital as well as Calvary Private Hospital Bruce. In recognition of this, in 2022 he was employed to formally train other orthopaedic surgeons, from all around the globe, in the latest robotic surgery.
In addition to directing the Orthopaedic Department at Calvary Public Hospital in Bruce he also teaches and examines undergraduate medical students, residents and registrars at The Canberra Hospital. He has a VMO position at The Canberra Hospital where he is regularly on-call to cover trauma surgery.