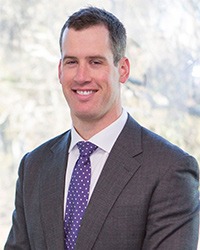 Dr Michael GROSS
F.R.A.C.S., F.A.Orth.A.
Dr Michael Gross is an Orthopaedic surgeon with a particular interest in treating the hip and knee. As part of this treatment he performs total hip and knee replacement surgery (including robotic MakoTM surgery) and arthroscopic and knee reconstruction surgery. In addition he treats and provides surgery for sports injuries and trauma.
Qualifications
Bachelor of Medicine, Bachelor of Surgery UNSW (Hons 1)
Fellow Royal Australian College of Surgeons
Fellow Australian Orthopaedic Association
He completed his undergraduate degree from UNSW in 1999 graduating with First Class Honours in Medicine. He commenced advanced orthopaedic training with the Australian Orthopaedic Association in 2006, completing this specialist training at the end of 2010. He spent the next two years performing fellowships to further advance his speciality training in primary and revision hip and knee replacement surgery (Canberra Orthopaedic Group and Zimmer Arthritis Australian Arthroplasty Fellowships). In 2012 Dr Gross officially joined Canberra Hip and Knee Replacement Surgery when he took over from Dr Peter Morris. More recently in 2016 and 2017 Dr Gross received specialised training both in Australia and abroad in the use of the Mako robot in hip and knee replacement surgery.
Memberships
He is a member of the Australian Orthopaedic Association, the Australian Society of Orthopaedic Surgeons and the Royal Australian College of Surgeons.
Current hospital appointments
Calvary Bruce Public and Private Hospitals
Calvary John James Hospital
The Canberra Hospital (on Trauma Roster)
National Capital Private Hospital (Robotic Mako TM Surgery)
Canberra Private Hospital
Michael also teaches and examines undergraduate medical students, residents and registrars at The Canberra Hospital Public Hospital.
Michael aims to provide high quality, evidence-based care to all of his patients irrespective of their financial status. He is committed to ongoing professional development to enhance his skills as an orthopaedic surgeon and has developed a specific interest in robotic surgery for hip and knee replacements.