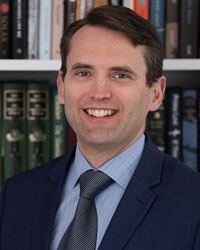 Dr Tom Ward
F.R.A.C.S., F.A.Orth.A., D.Phil (Oxon)
Tom is a triple fellowship trained orthopaedic surgeon, with subspecialty interests in hip, knee and trauma surgery. Tom's subspecialty training was at the world renowned Nuffield Orthopaedic Centre, Oxford University Hospitals, and in Canberra with Prof Paul Smith, Dr Al Burns and Dr Phil Aubin.
A Rhodes Scholar, Tom holds honours degrees in medicine from ANU, and in engineering from QUT, with a university medal. In 2005, Tom was awarded a Doctor of Philosophy degree in knee replacement research from the University of Oxford. In 2009, Tom was recognised as the Outstanding Young Alumnus of QUT, and was a Young Australian of the Year finalist in the ACT.
Beyond his clinical work, Tom has contributed to prosthetics and orthotics training in Cambodia since 2000, and has consulted internationally for McKinsey and Company, in both the USA and the Middle East.
As a senior lecturer at the ANU medical school, Tom's ongoing research is focused on improving the movement of hip and knee joints, making hip replacements more stable, and innovations using 3D printing and robotics in orthopaedic surgery.
Tom looks forward to providing compassionate, high quality care to his patients, with particular focus on hip and knee replacement surgery, hip and knee arthroscopy, knee ligament surgery, and fractures of the upper and lower limbs.